LWC and Apex performance with Anil Jacob
Anil Jacob:
When you're developing in an environment where there's not much data, the application seems to be doing fine, but when it moves to production, we see more data developing in production and that's where the problems start happening.
Josh Birk:
That is Anil Jacob, a principal Engineer here at Salesforce on the Frontier Scale team. I'm Josh Birk, your host for the Salesforce Developer podcast. And here on the podcast, you'll hear stories and insights from developers for developers. Today, we sit down and talk with Anil about his work on the Frontier Scale team, a team that works with customers that we were just describing there in his cold quote, large complicated customers with either a lot of users, a lot of records, or both. And this team works with customers in order to increase their performance on various levels. So we're going to bring those tips and tricks to you, starting with the description of how LWC is a single page application framework.
---
Building A Snake Game in LWC with Aditya Naag Topalli
Aditya Topalli:
And that fascination still was there with me, obviously, my course was computer science. And at that time I particularly hated looking at websites that didn't look good.
Josh Birk:
That is Aditya, a lead developer advocate here at Salesforce. I'm Josh Birk, your host of the Salesforce developer podcast. And here on the podcast, you'll hear stories and insights from developers, for developers. There Aditya is talking about his early experiences, building out web pages and web applications, which led to his experiences that we're going to talk about today, which includes building a snake game with lightning web components. But we started about how his previous role is similar to his current one as a developer advocate.
Aditya Topalli:
I was actually a part of the pre-sales team, also in my previous company. And that also involves building demos, which I seem to like better than building solutions based on customer's requirements. So this is a full-time opportunity where, explore something new, build demos on that, and inspire developers. Yeah, you don't have the pressure of deadlines, at least. For most of the time, of course, Dreamforce and all are different.
---
Data Recovery Service is Back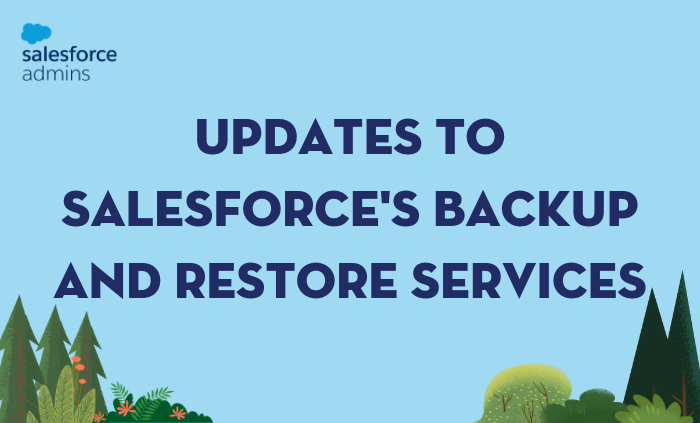 Have questions about how to use Weekly Export and Data Recovery Services? Would you like to learn more about how ecosystem partners can provide backup and restore solutions today? Would you like to learn more about the native Salesforce Backup and Restore pilot? Your Account Team is standing by and ready to help you today!
Ongoing feedback from our stakeholders is crucial in making our products stronger, and guiding the decisions we make about where we should be prioritizing. Your success and trust in Salesforce are our number one priority and we welcome additional feedback as we continue to innovate.
---
I am 12x Salesforce certified | Leader of New Delhi Salesforce Developer Group | Speaker | Blogger|