5 New Videos to Help You Understand Tricky Flow Concepts
As an admin, the three types of flows you're most likely to build are screen flows, record-triggered flows, and auto launched flows. We'll get into more details about all three types in the short video, but below is a brief overview.
Screen flows require users to input information like they're filling out a form. Use these to collect info that needs to be stored on multiple objects, or if you want the user to quickly fill out a few fields instead of an entire page.
A record-triggered flow fires in the background when a record changes (or is created or deleted). For example, when an opportunity closes, the flow will automatically send your team a Slack message. (Did you know it could do that? So cool!) Use these when you want something to happen without user input.
Autolaunched flows are frequently not launched in an auto-matic way at all. Use these when you want to launch a flow with a button on a record or the utility bar.
---
Go with the Flow: What's Happening with Workflow Rules and Process Builder?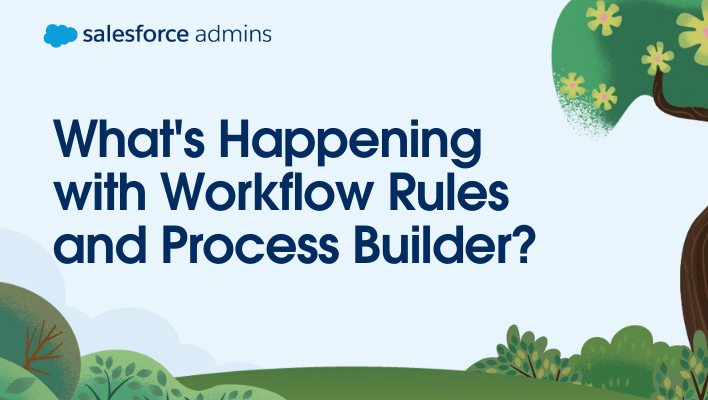 When This can be nerve-wracking news to admins who have yet to learn Flow or admins of orgs who have a lot of workflow rules or processes that will need to be migrated to Flow. How do you get up to speed with Flow? How do you move your workflow rules and processes to Flow? What is the end-of-life (EOL) timeframe? We saw these questions appear online and heard them asked live at Dreamforce in TTTC, and now we're excited to be able to provide further guidance on what to expect going forward.
---
9 Low-Code Tools to Help You Grow in 2022
With the Salesforce low-code platform, #AwesomeAdmins can leverage a variety of app development, automation, and artificial intelligence (AI) tools to build digital experiences across any device. These tools enable you to click to build apps and workflows fast. But don't just take our word for it! This year, Gartner recognized the Salesforce low-code platform as a leader in the industry.
Why is this important? We're continuously improving and releasing new low-code tools so that you can quickly deliver the digital experiences your employees, customers, and partners need. You are the digital creators who drive growth across your entire organization. Let's dive into the top low-code releases from 2021 that will help you grow in 2022!
---
I am 12x Salesforce certified | Leader of New Delhi Salesforce Developer Group | Speaker | Blogger|